Description
Elitech EMG-20V, an intelligent new digital manifold gauge, help you measure fast and operate easily via large graphic and smartphone. With its touch screen, pressure, vacuum and temperature values will be at a glance in your hand. It is suitable for daily inspection and maintenance of the HVAC/R system.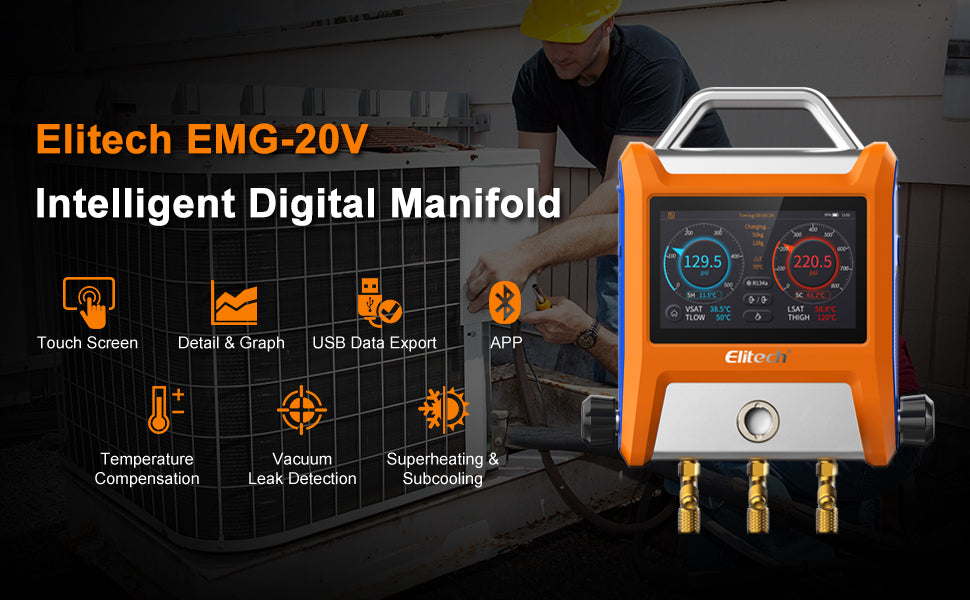 Feature

Simple & easy operation with 5" smart touch screen, clear data display
Enable Bluetooth to connect with to realize remote data monitoring and analysis in real-time on the mobile App
Easy data transfer via USB port. Data storage capacity up to 100,000 data points
Pressure, vacuum and temperature curve display, analysis intuitive and efficient
Auto Heat Pump Mode without changing the refrigerants hoses
Detect the vacuum leakage, monitoring the vacuum value precisely
Our service: 1-year warranty. 30 days free & easy return.
Ship out within 5 days. 
Technical Parameters
Pressure(High-Pressure Port and Low-Pressure Port )
Measuring Range:

 

-14.5~800psi/-1.0~56.2kg/cm2/-1.0~55.2bar/-0.1~5.5MPa

Accuracy: 

 

0.5%FS

Resolution:

 

0.1psi/0.1kg/cm2/0.1bar/0.01MPa

Pressure unit: psi, inHg, kg/cm2, cmHg, bar, kPa, MPa

Data Sampling Frequency: 0.5S

Overload: 

1000psi/70kg/cm2/69bar/6.8MPa
Temperature Clamp (High-Pressure Port and Low-Pressure Port )
Temperature Range: -40℉-300℉/ -40℃-150℃
Accuracy:

 

±0.1℃/±0.18℉

Resolution: 0.1℉/℃
Temperature Unit: ℉, ℃
Vacuum
Range: 0-19000 microns                         
Accuracy: 0-10000microns, ±10% of Reading / ±10 microns; 10000-19000microns, ±20% of Reading  
Vacuum Unit: inHg, Torr, psia, mbar, mTorr, Pa, micron, kPa
Resolution: 0-400, 1 microns; 400-3000, 10 microns; 3000

-10000, 100 microns; 10000-19000, 250 microns;

Interface: 1/4SAE and 1/4SAET
Refrigerant List
R113 R114 R115 R116 R12 R123 R1233ZD R1234ZE R1234YF R124 R125 R13 R134a R14 R141B R142B R143A R152A R170 R22 R23 R236FA R245FA R290 R32 R401A R401B R401C R402A R402B R403B R404A R406A R407A R407B R407C R407D R407F R408A R409A R410A R410B R412A R413A R414A R414B R416A R417A R417C R420A R421A R421B R422A R422B R422C R422D R424A R426A R427A R428A R429A R434A R437A R438A R441A R443A R448A R449A R450A R452A R452B R453A R454A R454B R455A R458A R500 R502 R503 R507A R508A R508B R514A R600 R600a R601a R718 R744
Interface: 1/4 SAE*3 & 3/8 SAE*1
Sensor interface: PS/2*2 ( left interface is temperature & vacuum probe multiplexing)
USB Interface: Type-C*1 (for data export and charging)
Dimensions: 254*215*46mm
Weight: 3.5lb/1.5kg
Working temperature: -20~60℃/-4~140℉
Storage temperature: -40~80℃/-40~176℉
Packing list
1 x Vacuum transmitter(T-joint)

2 x Temperature clamp

1 x Bent joint

3 x Refrigerant hose

1 x Universal power adapter

1 x USB-C cable

1 x User Manual (Download)

1 x Portable durable case
Payment & Security
Your payment information is processed securely. We do not store credit card details nor have access to your credit card information.