Elitech Wireless Micron Gauge 1~19,000 Microns, Digital Vacuum Gauge for HVAC and automotive, Refrigerant Vacuum Meter 1/4" SAE
customers are viewing this product
Elitech VGW-mini Wireless micron vacuum gauge measures vacuum via just one service port and with no loss of refrigerant. Its compact, robust and smart design support HVAC technicians with numerous intelligent features like the graphic display of measurement data in the Elitech Tools App. Its smart Bluetooth integration allows for data to be stored and evaluated reliably and efficiently, thus saving precious time and resources.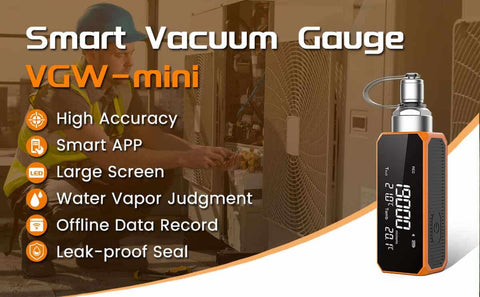 Product Features
【High Accuracy】The digital vacuum gauge achieves precise deep vacuum measurements down to single digit resolutions and provides notifications when the evacuation target is met.
【Smart APP Control】Control your micron tester remotely and navigate through all measurement data via Smartphone or Tablet. Quickly and conveniently document your job, finalize your report and export - directly from the job site.
【 Intelligent Judgement of H2O Status】The vacuum meter automatically judges physical state of H2O by comparing ambinent temperature and water saturation temperature corresponding to the vacuum in the system.
【Large, Easy-to-Read Display】Continual digital readout of evacuation process can be viewed easily on the large, full-view LCD screen.
【Rechargeable Lithium Battery】Built-in rechargeable lithium battery can work up to 20 hours per single full charge, saving troubles of frequent battery change.
Product Specifications
Measuring Range: 
0-19000 micron
Operating Temperature: 
-4

℉

~140

℉

(-20°C~60°C)

Interface:
1/4 SAE
Accuracy:
 1~10,000 microns: ±10% of readings ±10 microns
10,000~19,000 microns: ±20% of readings 
Resolution: 
0-400                   1 Micron
400-3000            10 Micron
3000-10000        100 Micron
10000-19000      250 Micron
Vacuum Units
microns, mTorr, in/hg, Pa, Torr, KPa, mbar and psia
Battery
rechargeable lithium battery (1,000mAh)
Overload
27.5 bar
Certification
CE
Compact and Reliable

The digital gauge's compact size is easier to fit into tight spaces, while its leak-proof seal and rugged design makes it's pretty reliable.

Smart APP Control

Control your instrument remotely and navigate through all measurement data via Smartphone or Tablet.

Online/Offline Data Recording and Report Export

Evacuation data can be recorded in the meter even when APP is not connected. Work report can be exported in PDF or excel.

Smart Judgement

The micron meter judges H2O status automatically. If the H2O state remains liquid after it reached the "evacuation target", please adjust the target and continuing evacuation until H2O vaporized.  

Evacuation Completion Notice

Notification will pop out on APP when the evacuation target is met.

 

User Select-able Units

Choose among microns, mTorr, in/hg, Pa, Torr, KPa, mbar and psia.